Justin Theraux celebrated his wife's birthday in a very mexican way: With a piñata!
Theroux was recently interviewed about his recent trip to Mexico with wife, actress Jennifer Aniston while promoting a movie at CinemaCon, an exhibitor convention held in Las Vegas known for its lavish studio-thrown parties and myriad promotional opportunities.
Aniston's birthday included a special dinner and a piñata. But htere was a twist: The piñata was actually empty.
"Actually, we didn't put anything in the piñata. We had a piñata and didn't end up smashing it. What are you gonna put in it? Kale?" Theroux told to E Entertaiment Television.
Although, when the interviewer joked that Jen's husband could have filled it with diamonds, it got us thinking…What would Jennifer Aniston want spilling out of a piñata?
HAPPY BELATED BIRHTDAY JEN!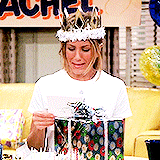 Comments
comentarios